For the sixth annual Something Wicked festival located at the Sam Houston Race Park, we're featuring 35+ internationally renowned electronic artists. Hailing from New Zealand to the Netherlands, these artists' magical music will traverse genre boundaries featuring the sounds of uplifting trance, foot-working drum and bass, head-banging dubstep, journeying progressive house, banging trap, and everything in between. We've said it before and we'll say it again — the best way to connect with your friends before trekking to The Asylum is by planning out your festival schedule in advance … and lo and behold, here it is!
Presenting the Complete Program of Artist Set Times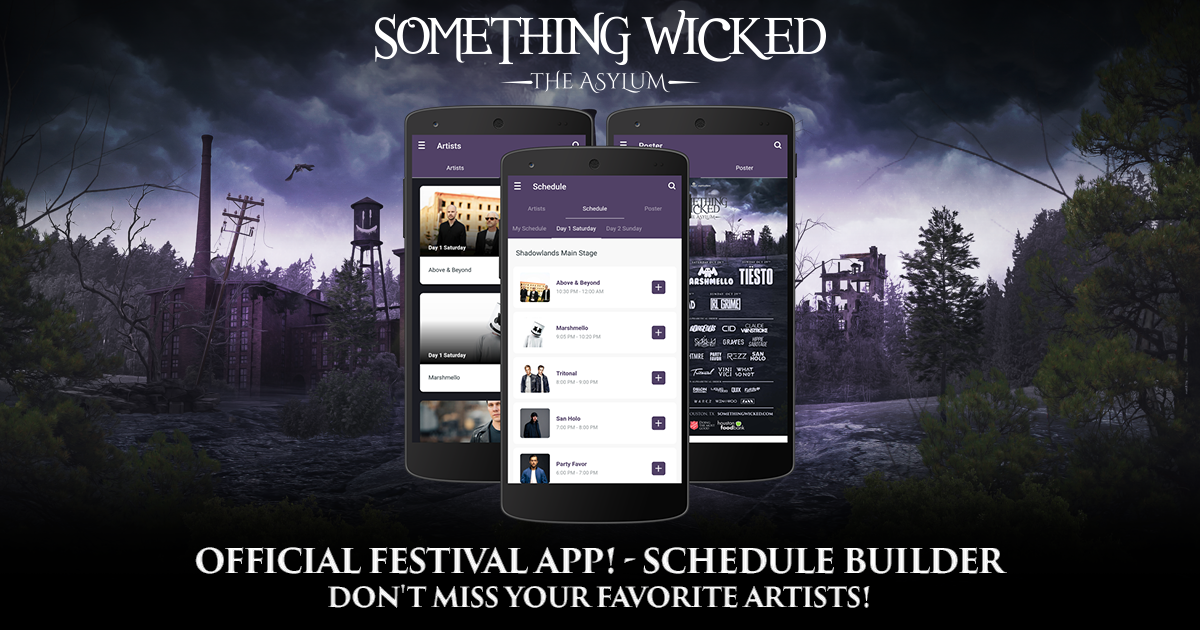 With two days of nonstop, bass-heavy, electrifying dance music — how will you squeeze it all in? Our app's schedule builder is the only way to plan your itinerary to make sure you and your deviously-dressed crew don't miss out on any of the acts you've set out to see. Not only does the app offer the complete, daily artist set times, but it also includes detailed background info' and talent profiles, ticketing and vendor information, news and last-minute updates, an exclusive Something Wicked camera filter to take timeless photos of the whole gang, and most notably, a site map so you don't get lost! Download the mobile app, available on iOS and Android devices, login with Facebook to create your own program of events.
Day 1: Saturday, Oct. 28th
Shadowlands
The Shadowlands main stage is where you can catch some of our leading, genre-bending stars. Premier talent kicks off in the afternoon before the day ends with world-class producers that'll transport you to another realm.
10:30 – 12:00 AM ABOVE & BEYOND
09:05 – 10:20 PM MARSHMELLO
08:00 – 09:00 PM Tritonal
07:00 – 08:00 PM San Holo
06:00 – 07:00 PM Party Favor
05:00 – 06:00 PM Elephante
04:00 – 05:00 PM Liquid Todd
03:00 – 04:00 PM Wes Walz
Bass Crypt
The Bass Crypt is a spookier type of treat, to say the least. Featuring artists that aren't afraid to bring out the devil inside with booming bass, our subterranean tomb will test your limits for the most extreme type of dance music.
10:45 – 12:00 AM Hippie Sabotage
09:25 – 10:40 PM Borgeous
08:25 – 09:25 PM Space Jesus
07:25 – 08:25 PM Graves
06:25 – 07:25 PM Buku
05:25 – 06:25 PM Rickyxsan
04:25 – 05:25 PM Warez
03:25 – 04:25 PM Seb
03:00 – 03:25 PM Monstar
Mystic Meadows
Take time to dwell in the solace of Mystic Meadows during your stay at The Asylum, where you'll find the stage is curated with top global talent, showcasing the skill and panaché of a more subdued vibe.
10:45 – 12:00 AM Claude VonStroke
09:45 – 10:45 PM Malaa
08:30 – 09:45 PM Rezz
07:15 – 08:30 PM K?D
06:00 – 07:15 PM Zaxx
05:00 – 06:00 PM Win + Woo
04:00 – 05:00 PM Dillon Nathaniel
03:00 – 04:00 PM Charles Meyer
Day 2: Sunday, Oct. 29th
Shadowlands
Pending your feet haven't let you down yet, the dance floor at Shadowlands main stage brings even more fiery fury on Sunday. Hometown heroes start the party, before Grammy Award-winners bump up the house prior to topping off the night with some heavy-hitting headliners.
08:30 – 10:00 PM TIËSTO
07:20 – 08:20 PM ZEDS DEAD
06:10 – 07:10 PM Tchami
05:10 – 06:10 PM NGHTMRE
04:10 – 05:10 PM Alan Walker
03:10 – 04:10 PM CID
03:00 – 03:10 PM Evan Evolution & Dominic Parisi
Bass Crypt
Day two at the Bass Crypt stage will be as massive as the first, showcasing sounds from hip-hop and trap all the way to rumbling bass. These DJs won't shy away from terrifying tuneage either.
09:00 – 10:00 PM RL GRIME
08:00 – 09:00 PM What So Not
06:55 – 07:55 PM Ganja White Night
05:45 – 06:45 PM Bleep Bloop
04:45 – 05:45 PM Quix
03:45 – 04:45 PM ATLiens
03:25 – 03:45 PM Saylus
03:00 – 03:25 PM Atwood
Mystic Meadows
The second day at Mystic Meadows stage won't be without whimsy — or trance. Our early-evening artists will leave you starry-eyed and the hypnotic brilliance of our late-end performers will lead you to get lost in the reverie.
08:45 – 10:00 PM Vini Vici
07:30 – 08:45 PM Aly & Fila
06:15 – 07:15 PM Cosmic Gate
05:00 – 06:15 PM Solarstone
03:45 – 05:00 PM Spencer Brown
03:00 – 03:45 PM Ambition