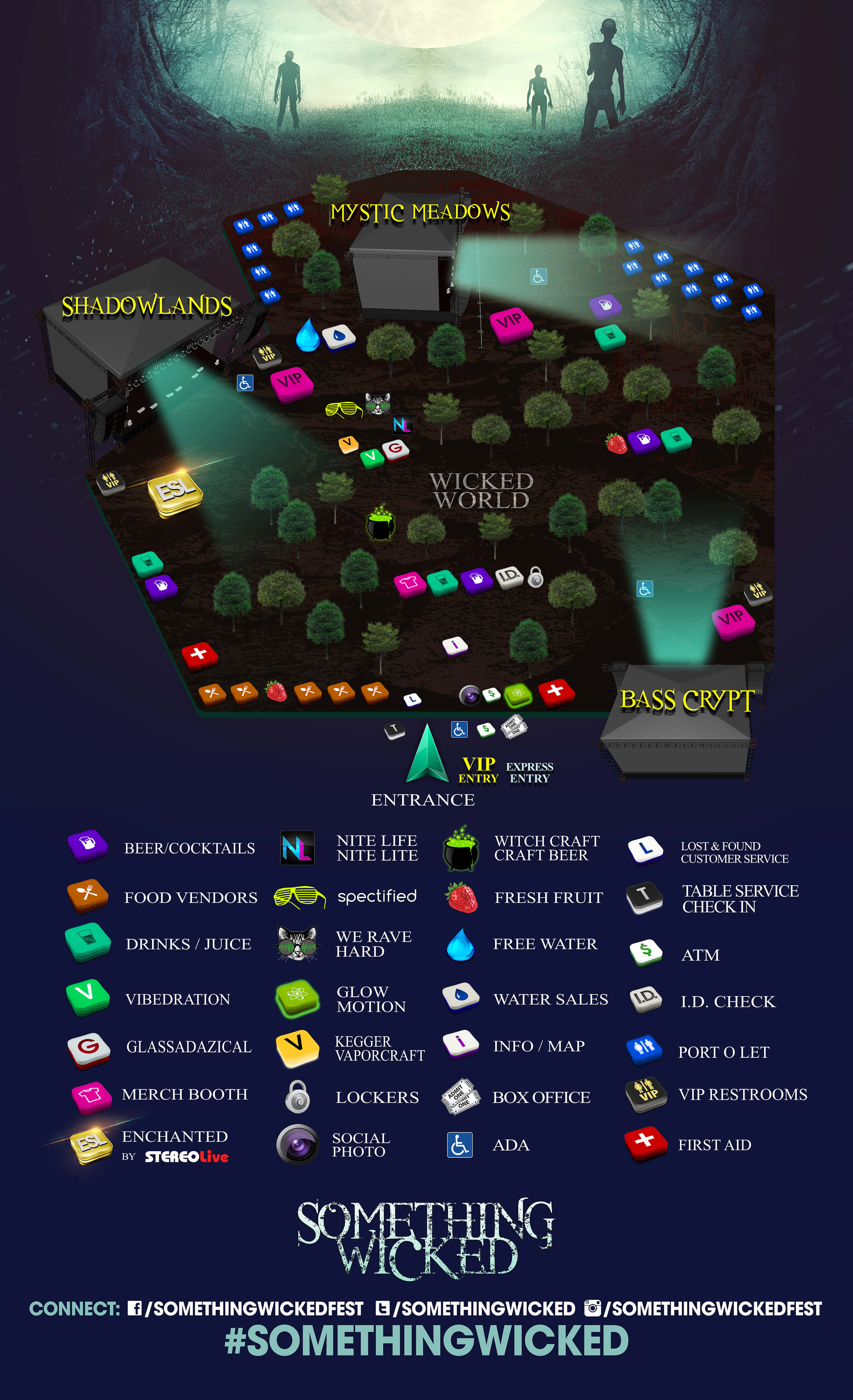 View the official festival map and lay some groundwork for the hallowed return of Something Wicked come October 29-30th. Use the map to get a feel for the spooky grounds before gates open so that you can avoid making wrong turns as you explore Sam Houston Race Park.
There's much to bloodcurdling entertainment to explore, so come prepared and get ready to rage! Dial into the festivities using the official mobile app, available for Android and iOS, to access all your need-to-know information including complete map details.
Ticketing
For all your ticketing needs, the Box Office opens at 1:00 PM on Saturday, October 29th and 12:30 PM on Sunday, October 30th. Patrons 21+, don't forget to swing by the ID Check to get your wristband so you can purchase drinks at the bar.
Transportation
To arrange your Drop-Off and Pick-Up location, proceed to the general entrance at Gate 1 on Feeder Road. And when all else fails — CARPOOL! Space in the parking lots is limited, please share a ride with friends. Parking lots open at 1:00 PM on Saturday and 12:30 PM on Sunday at a rate of $20 per day, cash only.
Uber
Make the journey with ease thanks to on-demand car service, Uber. Just a few taps on your smartphone will get you to the festival with a free first ride on us! Download Uber for your iOS or Android device, request a ride, and a nearby driver will arrive in minutes. Plus, you can skip the parking lots and get dropped off outside Gate 1! Enter the code "SomethingWicked16" in the Promotions section of the menu, select your Uber, and enjoy the free ride – up to $20 off! (Promotion valid for new users only).
ADA Accommodations
ADA parking is available. A designated parking and loading area reserved for fans that have a mobile disability will be accessible on-site, so you and your crew can enter the festival gates with ease. Please use Gate 6 for parking in close proximity to the event. All vehicles must have a handicap decal either hanging from the rearview mirror, or on the license plate.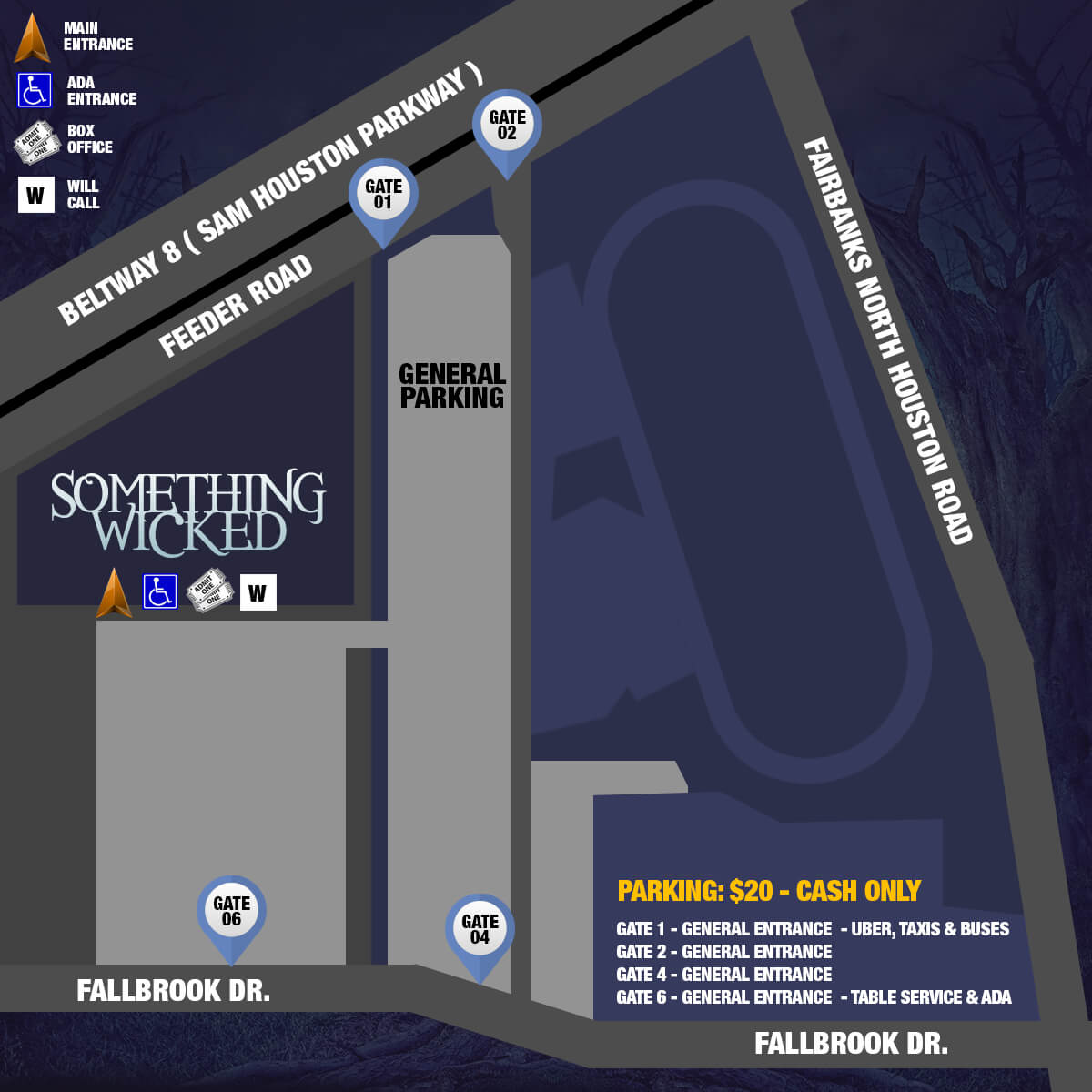 Amenities
There are a number of amenities stationed across the festival grounds of Something Wicked including free water, personal lockers, and the social photo booth. In case you need it, we've always got First Aid available and the Lost & Found to retrieve wayward belongings.
Refreshments
Whet your whistle with a Wicked brew at the Witchcraft Bar featuring local Texas craft beer, then say RIP to hunger with a visit to one of our tasty food vendors. We've got a variety of treats to satisfy all of your earthly cravings.
Vendors
Get swagged out with some custom gear from Something Wicked at the official merch booth. In addition, we've got a variety of vendors on-site to meet all your festival whims including Glow Motion Bracelets and Cat Ears, light up goodies at Nite Lite Nite Life, illuminating frames by Spectified , hydrating backpacks from Vibedration, handmade products by Glassadazical, stylish duds at We Rave Hard, as well as micro-brewed juices from Kegger Vaporcraft.
Many vendors will be cash only, but don't worry — we've got plenty of ATMs located around the festival grounds.
Stages
Where the magic happens! Don't miss a beat of our devilishly good lineup, check out the complete artist schedule spread across three stages including Mystic Meadows, Bass Crypt, and Shadowlands. Then, create your own list of must-see performances at the tap of a button. Login to the mobile app and star the set times to build your own personal event program.