As we prepare to embark on a journey through the dark side at the sixth annual Something Wicked festival, we can't help but get excited over the premium local talent that'll be rolling through, in addition to 35+ of the hottest global DJs already gracing our decks. Local selectors are the lifeblood of dance music, and just because you haven't heard their name before doesn't mean they won't be throwing down your favorite tunes. Be sure to familiarize yourself with these nine hometown heroes — you never know who'll be traversing over to the main stage by next year's time.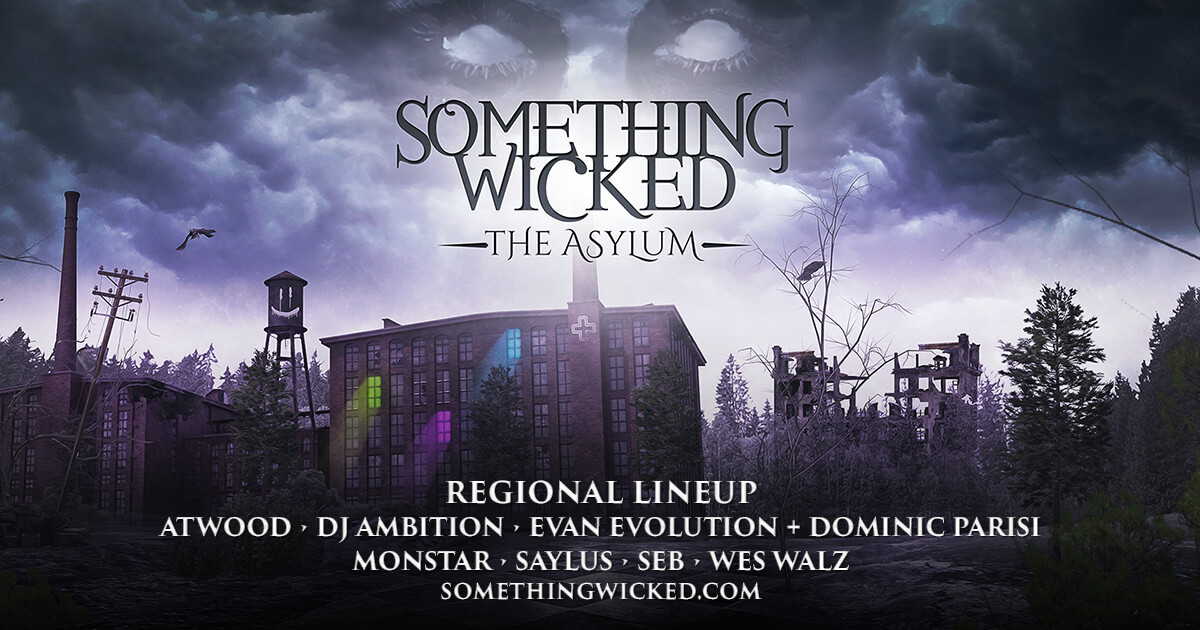 Ambition
Born and raised in the state of Texas, Ambition is a current resident at Stereo Live events produced by Nightculture, known for bringing a fire and energy like no other — how could you not after 18 years of DJing? Since landing in the Houston house music scene in 2002, he has made a name for himself and built a following of floor-moving dancers. He's also shared the bill with some of the biggest talents in the world today, including Deadmau5, Pete Tong, Chris Lake, DJ Keoki, BT, and many more!
Atwood
Zacc Atwood, aka Atwood, is a newfound producer and DJ operating in the realm of bass music. Despite coming from a background in the metal genre and playing the most hard-hitting tunes you could imagine (his originals are titled "Slay" and "Big Wiggly Style," to name a couple), Atwood's greatest goal with music is to free others from concern. This producer is less than a year in the making, but has already released collaborations with Crystalize, Cuboid, and several others. To say the least, Atwood has hit the ground running, and with full support from his Houston street team he plans to start touring in next year.
Charles Meyer
Currently based in New York City and a staple of Disco Donnie Presents, Charles Meyer is a selector not meant to be taken lightly. Founder of a bicoastal, underground party series operating out of one of Brooklyn's best nightclubs, entitled Unsourced, Charles has released original tunes and remixes on labels such as Nite Records, Audiophile Deep, Laser Native, and more. His involvement with Made Event's cutting-edge techno party, Sunday School, has opened the door to performance opportunities at premiere music festivals including Electric Zoo and Mysteryland. New York's underground has already fallen for him, and you will too.
Dominic Parisi
As a resident at Liquid and FWD Ent. in Cleveland, Dominic Parisi has opened for Something Wicked festival's own Elephante, as well as the likes of Dirtybird DJ's Justin Martin and Will Clarke with My Best Friend's Party. This late night story teller shares a profuse love of house and can often be found engineering culture at massive parties like Farm On Fire and TanZ SummerFest. Catch him opening up a stage at The Asylum this year at Something Wicked along with Evan Evolution!
Evan Evolution
Throughout the years, Evan Evolution has shared the stage with DJs like Justin Martin, Krewella, Rebecca and Fiona among many more; bringing an unmatchable energy to the dance floor with his unique selection of house music. His ability to move between genres in DJ sets is palpable, from tunes by the likes of MK and Thomas Jack to tracks by Nero, and soon after, Donna Summers. You could say he evolves quite seamlessly — an experience not to be skipped.
Gamma
Grant "GAMMA" Montagne originates from Dallas, Texas and has been climbing an upward hill toward stardom since 2011, with festival slots under his belt including Lights all Night, Nocturnal Wonderland, and previously our own Something Wicked! He self-admittedly is influenced by dab and operates in the musical realm of dubstep and trap, having successfully shared the stage with artists from Zeds Dead to Alison Wonderland and Tyler the Creator.
MonStar
MonStar is an up and coming producer from Houston, with three brand-spanking new singles in his back pocket released this year to boot. Professionally DJing for six years prior, MonStar always strives to bring his audiences the best in electro, dubstep, house, trap and trance, and has proven his ability to read the crowd by delivering killer dance floor DJ sets in the presence of other top EDM artists including Them Lost Boys, Seven Lions, Candyland, Kill Paris, Knife Party, Bro Safari, Borgore and others. He played his first major music festival just last year at Free Press Summer Festival, and Houston is once again delighted to welcome him back atop our stages at The Asylum.
Saylus
Alexander 'Saylus' Engelmann is a young Houston local with a taste for bass. Saylus started making music while he was still in high school and has continued to create plenty of original tunes throughout college, centering on the drum and bass, trap, and dubstep genres. Let's see for ourselves if his tagline "say less, dance more" applies at this year's Something Wicked.
Wes Walz
An integral part of the Houston electronic scene for more than a decade, Wes Walz is a local legend of sorts. Co-founder of both KAOS Entertainment and HoustonBeats.com, Walz is involved in other ventures including Rich's Houston, and has thrown countless parties in the area since 2007. Wes has already shared lineups with artists such as Gareth Emery, Above & Beyond, Armin Van Buuren, and now Something Wicked will bring him back for the first time since his 2013 debut!